Your guide to building a $100m RIA
These growth strategies will help you scale your practice rapidly.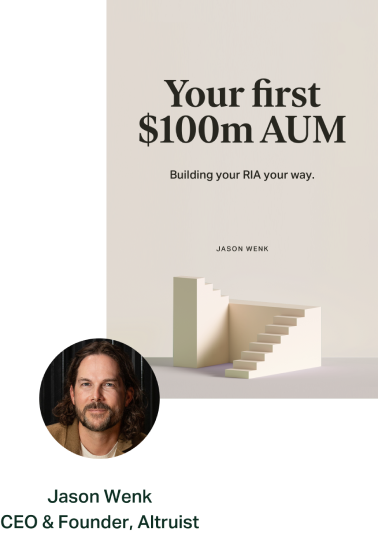 CRM
Part of an RIA's success is developing a solid working relationship with its clients. To do this, you need a place to keep track of your progress throughout your relationship.
Altruist makes it easy by offering a tech collection for advisors featuring Wealthbox. Why do we like Wealthbox? It was explicitly built for financial advisors and offers more upside than a standard CRM product like Salesforce.
Software for Document Retention / Archiving
Every RIA needs to be concerned with compliance and having all the correct documents in place is critical to managing your compliance program.
Your compliance consultant will often suggest an archiving service like Smarsh, Global Relay, or Box.
Financial Planning Software
Basic financial planning software is also required for any new RIA. Google sheets or Excel are good options if you are a proficient user. If you're not comfortable using those tools, there are plenty of software vendors on the market.
No matter how much experience you have in the financial advising industry, forming an RIA from the ground up is daunting. Locking in these 9 financial advisor tools can significantly increase your odds of success.
At Altruist
At Altruist, we strive to make independent financial advice better, more accessible, and more affordable. We've combined many of the tech listed here at a great price. Our custody solution gives back precious time and capital to RIAs, so you can focus on what matters most: your clients and business.
On one intuitive, integrated platform, advisors can open and fund accounts, trade and rebalance, report, and bill, at a fraction of today's edging-ever-higher technology costs.
Our dedicated customer support team ensures a smooth transition and exceptional ongoing service for new firms, existing firms, and advisors planning to make the leap from their wirehouse.
We can help you streamline operations, reduce overhead, and improve the client experience. To book a call, contact us today. True independence awaits.
*First 100 client accounts free and just $1/account each month after refers to Altruist's Portfolio Accounting Software (PAS) only. Keep in mind, other brokerage fees may apply on your client's assets. Please see the Brokerage Fee Schedule and Subscription Pricing on altruist.com/legal to learn more.