Your guide to building a $100m RIA
These growth strategies will help you scale your practice rapidly.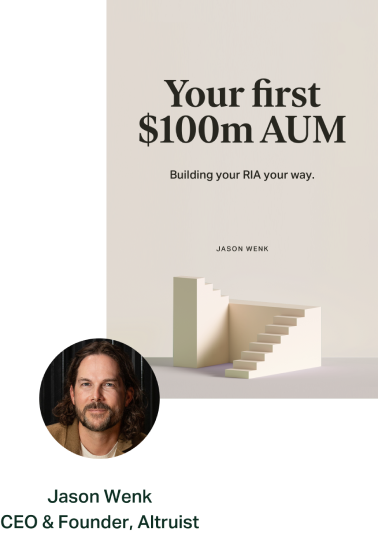 4. Will my staff and clients have a seamless user experience from the custodian?
Every interaction that your client has with a partner of your organization is a reflection of you, their advisor. It's important that both staff and clients feel valued when interacting with members of your custodian's client service team. If this does not align, then credibility can be in jeopardy and it can create a stressful work environment for your colleagues.
5. Can I build scalable portfolios?
If you're using a custodian, it's very likely that you are providing investment solutions for the clients that you serve. The custodian—at a minimum—should allow you to build portfolios that are scalable amongst your client households. With these portfolios, you should be able to build for risk tolerance and rebalance due to pre-set triggers. These features offer uniformity in investment strategy, takes the repetitive labor out of the work, and free up time for you to spend with your clients and prospects.
6. What are the associated costs of using this custodian?
Oftentimes, out of necessity, independent advisors find themselves with a custodian because of an affiliation with a professional network, a former work relationship, or to gain more credibility with clients. At most broker-dealers, there are fees associated with housing your client assets on their platform. These fees can be as simple as trading costs or earning money on cash or as complex as mutual fund servicing fees and 12b-1 fees. Another consideration? Make sure your custodian doesn't compete with you.
When custodial fees are high, many advisors opt to pass these costs down to their clients through the costs of their services rendered. But if you select a custodial partner with no hidden fees and more transparency, you can save your clients money and reinvest your revenue into the growth of your firm.
7. Can I see myself growing with this platform?
Like most RIAs, you are probably deeply focused on serving your existing clients and forging the path to future growth. As platforms continue to evolve and the financial services industry changes, it's important to select a custodian whom you can trust and grow with as your firm scales. The best way to do this is by getting recommendations from your peers, trying demos of the platforms, and solidifying your growth plans.
The landscape of our industry is one that's becoming more technological by the minute. By selecting a custodian that's able to meet your current and future needs, you'll set your firm up for client satisfaction and long-term success.