Your guide to building a $100m RIA
These growth strategies will help you scale your practice rapidly.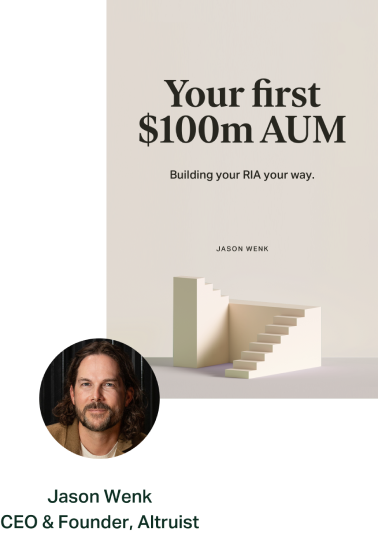 Force multiplier
When decisions are best left to an advisor, technology can still be a powerful partner. In fact, technology may be at its most powerful when used alongside a skilled practitioner.
Consider risk assessment, for example. Computer-based tools can help an advisor tease out a client's underlying risk preferences, and analysis of a portfolio's risk characteristics can help an advisor find the right fit for their client and facilitate a deeper conversion on the client's concerns and goals.
Where human connection and intelligence is required, technology can enable an advisor to apply their specialized expertise quickly and to greater effect.
More time to focus on what matters
Technology frees advisors to focus their time on the highest-value activities for their clients. Low-complexity tasks can be automated away, and high-complexity, high-value activities can be enhanced by thoughtful tooling to supplement the advisor's expertise. Our hope at Altruist is that we can empower advisors with the right technology so they can give great advice to more people.