Step-by-step advice on forming your RIA
Altruist's COO guides you toward a successful RIA launch.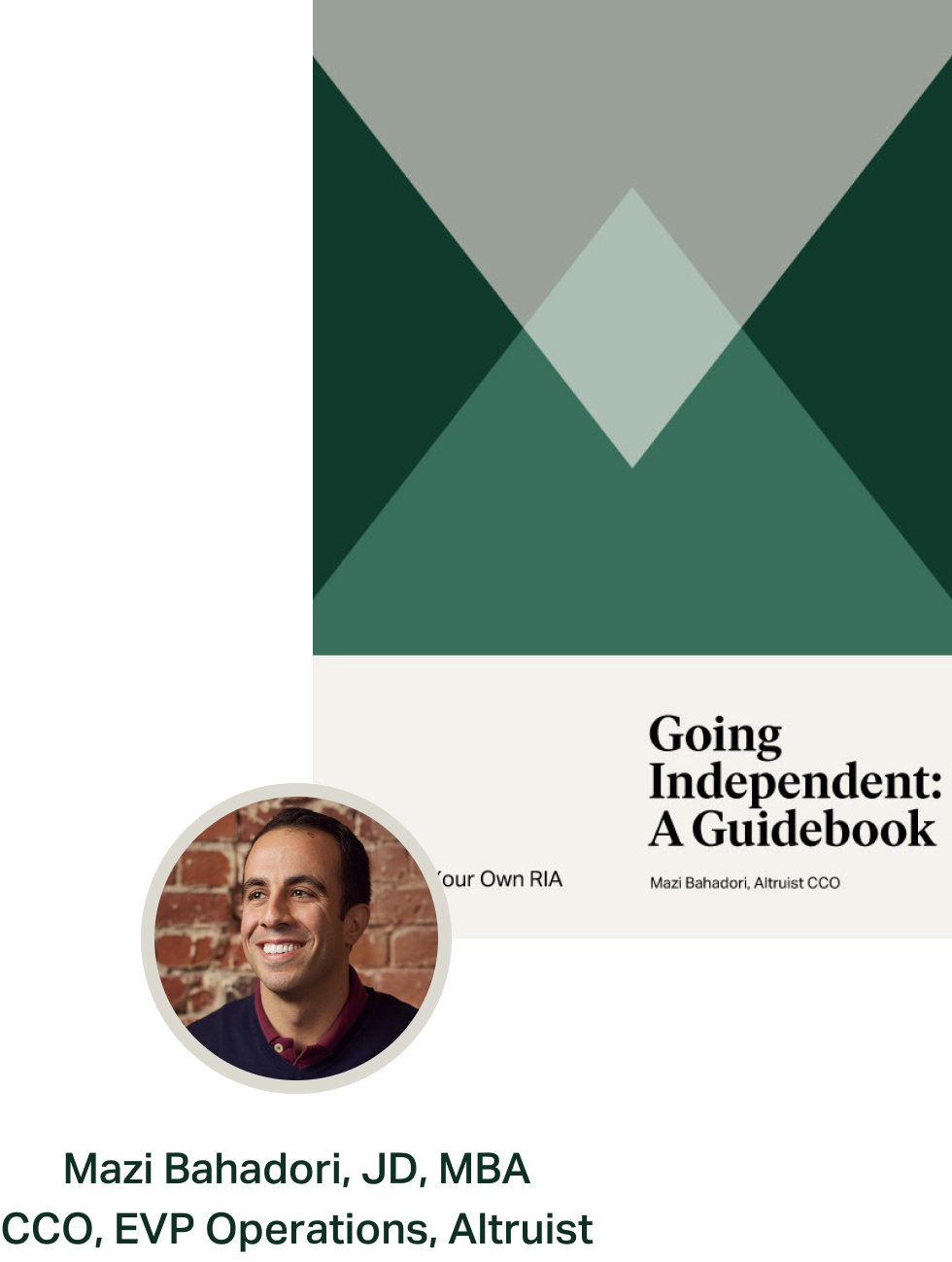 How do you choose the right custodian for you?
Here are some primary considerations: access, cost, time savings, partnership, and client experience. We'll also share a few additional questions you should ask.
Access: Are there AUM minimums?
Many custodial platforms require an independent advisor to have $10 million in assets under management or more, before allowing their firm to house client assets at their institution. If you are an emerging advisor or do not want to house all of your assets on one platform, ensure that you fulfill the asset requirements for your custodial partner.
Cost: What are the associated costs of using this custodian?
Frequently, out of necessity, independent advisors find themselves with a custodian because of an affiliation with a professional network, a former work relationship, or to gain more credibility with clients. Most broker-dealers have fees associated with housing your client assets on their platform. These fees can be as simple as trading costs or earning money on cash or as complex as mutual fund servicing fees and 12b-1 fees.
When custodial fees are high, many advisors opt to pass these costs down to their clients through the costs of their services rendered. But if you select a custodial partner with no hidden fees and more transparency, you can save your clients money and reinvest your revenue into your firm's growth.
Time Savings: Does this custodian increase the efficiency of my firm?
How much paperwork is involved in essential functions like opening and transferring accounts? Is there a way to digitally send paperwork and collect signatures from your clients? Do clients need to provide outside documentation for new accounts? How long does the transfer process take? A custodian's policies around these frequently occurring tasks can save (or cost) you a lot of time in the long run. You must ensure that the custodian can efficiently support the type of practice you want to run.
Partner-in-Growth: Are my custodian's goals aligned with my own?
Historically, custodians have been direct competitors with RIAs. Schwab and Fidelity both have advisory services and retail products — which means they compete with RIAs for business. In an ideal world, your custodian doesn't compete with you.
Another factor to consider in the partner-in-growth evaluation is support. What level of support will you receive from your custodian? Most custodians are still heavily reliant on paper-based processes, so they're prone to errors! When something goes wrong, will you be talking to a person or a chatbot to resolve the issue?
Client experience: Will my clients have a seamless user experience?
It's important to choose a custodian that will allow your clients a seamless transition and experience. These tasks should be simple, digital, and convenient for the client, from account opening, account funding, account transfers, and beyond.
Unfortunately, most custodians don't operate this way and still use antiquated practices, requiring clients to sign the paperwork, submit copies of old account statements, and send voided checks if clients want to perform basic brokerage functions.
Additionally, in safekeeping client assets and compliance, your custodian should have industry-leading insurance policies and some form of asset protection guarantee.
Depending on your firm's goals, here are other questions to keep in mind while searching for a custodian:
What type of service can I expect?
What additional software do I need to purchase to manage my practice?
How can I bill my client accounts for my services?
How much does it cost to trade on your platform?
How long does it take to set up model portfolios?
How long will it take me to rebalance my client's portfolios?
How do you make money?
How does a client deposit money?
Will you compete with me?
How the custodian answers these questions will help you determine who is the best fit. Whatever their response, it's best to consider the answers with the following three lenses: First, is the answer transparent? Second, will this answer save me time or money? Third, will this help me grow my practice?
Don't rush this process. Finding the right custodian for your practice and your clients takes time.
What are the red flags for custodians?
When dealing with people's money, the stakes are higher. As a former pilot, I found one of Captain Sullenberger's remarks on the NTSB's rulemaking approach compelling. After he landed the United jet on the Hudson in 2009, he praised emergency landing procedures and put them into context, stating: "in aviation, every rule that we have, everything we know, every procedure we use, we know because someone, or often many people, died."
While the world of custody doesn't deal with life or death, it significantly impacts the livelihood of millions of people. Every rule and procedure custodians follow typically exists because enough people got screwed over by some financial services company at some point.
It's best to know the quality of those procedures well before a client puts a single dollar into their brokerage account. Advisors should ask custodians they're considering for the following information:
Best execution reports (SEC Rule 606 Report and Rule 607 Disclosures): Look to see how well the broker executes trades. Where are they routing orders and what rebates are received from the liquidity providers.
Review their FINRA Broker Check report: Focus on any regulatory disclosures, suspensions, fines, or other red flags that indicate a lapse in controls.
Review their information security controls: Ask if they're adhering to industry standards on cybersecurity protocols and when they last performed penetration testing.
Review their business continuity procedures: Understand what happens if they have a disaster event and your client needs to access her money.
Review their privacy and information sharing policies: Learn whether they share your client's information with their affiliates to put them on another company's marketing lists.
Review their insurance policies: SIPC is a must and excess coverage is critical for higher balance accounts.
Traditional custodians are accustomed to doing business in traditional ways. That's not necessarily bad, but it leaves much to be desired regarding more innovative security measures, more robust technology tools to identify and mitigate risks, and discomfort with the status quo of regulatory fines and enforcement actions. Ultimately, advisors who understand these critical processes and safeguards will help put their clients at ease by trusting that their money is in good hands.
So how does Altruist stack up as a custodial solution?
Altruist is dedicated to RIAs and will never compete with advisors. There are no AUM minimums, we provide stellar customer service–you will always talk to a human, never a robot. We provide an all-digital experience bringing tech and custody together. Here's a deeper look into what we provide RIAs:

The right custodial partner can be a game-changer
If the custodian helps an advisor trade across accounts, create scalable model portfolios, rebalance effectively, bill, and have baseline performance reporting, it empowers you to serve effectively while saving time and clutter for all parties involved. This decluttering and efficiency can also take its form through key integrations that a platform might have with other technology you may already use. These features offer uniformity in investment strategy, take the repetitive labor out of the work, and free up time for you to spend with your clients and prospects.

With Altruist, you can seamlessly transition to a custodial platform built for RIAs. Simplify your tech stack, reduce overhead, delight your clients, and grow your business. True independence awaits. Talk with one of our transitional specialists now.
Going Independent Series
In case you missed it, be sure to catch up on the previous articles in the series: