Your guide to building a $100m RIA
These growth strategies will help you scale your practice rapidly.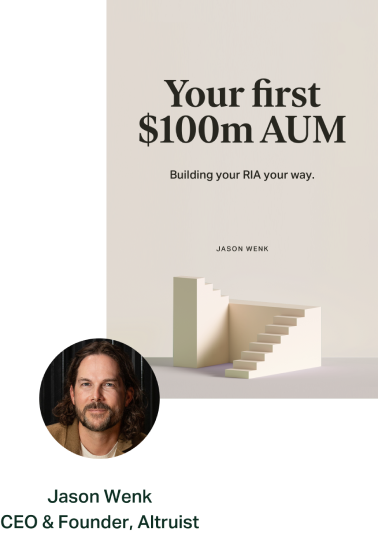 Step 2: Prepare a transition guide for client communications
Here are some valuable techniques for getting people to do slightly involved things:
Set expectations early and often. Our brains crave path, duration, and outcome — what will I have to do, how long will it take, and what happens when it's over.

Get ahead of questions you know they will have. What would you be asking if you were in your clients' shoes?

Get personal! The power of the human touch really can't be overstated — especially when it's you vs. your previous firm. Just pick up the phone, send an email, etc.
With those themes in mind, your client transition guide should include the following:
1. Updated personal & firm details
Send clients your new contact information. Tell them to delete the old information, so they aren't calling your former firm.
1. Phone
2. Email
3. Firm Name
4. Firm Address
5. Firm Website
2. Your reason for change, "why I'm going independent" (can be using in a letter/email form or during client conversations)
Describe your personal motivations for seeking independence without badmouthing your prior firm. That might include mentions of:
Entrepreneurship (personal branding and niche focus)
Strategic control (flexibility and decision-making)
Fiduciary duty (if you mention this one, be aware that people might wonder, "well what was I getting before?" - you may want to explain "suitability" versus "fiduciary duty" )
Business economics (it's okay to say that it's a better deal for you… because hopefully, it's also better for them!)
Better technology
No conflicts of interest
Whatever else
3. How it will affect your clients ("what this means for you")
It's clear why this is in your own best interests… but what's in it for them? We'll leave this one up to you, but depending on your goals, you might include:
Better pricing
Better client experience & service
Better after-tax results (with more efficient tax location)
Better resources
Less red tape
4. Get ahead of the tactical questions! ("You may be wondering")
According to Grier Rubeling, founder of Advisor Transition Services, some of the most common questions clients ask are:
Why didn't you tell us it would happen ahead of time?


Why are advisors from [Prior Firm] calling me? Is what they're saying true?


Why do I need to provide all my personal and financial information again?


How long will my accounts take to transfer over, and how will I know when it's done?


What happens to all my account history? Will my cost basis transfer?


Will my periodic transactions be interrupted?


Will my fee change? How and when will my accounts be billed?


Who can I call if you're not available? What happens when you're on vacation?


What happens to my accounts if something happens to you?
5. Lay out the timeline ("This is what you can expect")
This can be a quick, simple process or an involved and time-consuming one depending on the requirements of your new custodian (i.e., the amount of paperwork and wet signatures involved). In a nutshell, it usually looks something like this:
Advisor leaves the firm


Advisor communicates with clients, providing resources, collecting information, and preparing paperwork


Advisor sends a packet (paper or electronic) of paperwork (general information, documents requiring signatures to open accounts and initiate transfers) within a few days of that data-gathering conversation:

- Investment advisory contract
- Financial planning contract (if applicable)
- ADV (no signature required)
- Privacy Policy (no signature required)
- Account Opening documents and supporting documentation
- Account transfer forms
- (Instructions on how to complete all these forms)


Clients complete forms (either digitally or with wet signatures) and return them to the advisor


Once the forms are returned, the advisor initiates the account opening process with the custodian


When accounts are open, account transfers can begin


Advisor notifies the client when all transfers are complete


Advisor handles issue resolution and overall tracking
Depending on the amount of paperwork required (some custodians still require wet signatures to open accounts, which means physical snail mail is involved) and the eagerness of your clients to complete that paperwork, this process can drag on for multiple weeks, if not months. However, it's safe to assume that most households will transition in approximately 10 days from start to finish. In the meantime, your old firm could be calling your clients and coaxing them to stay (which requires no paperwork).
This is what a client transition looks like with Altruist
At Altruist, we want to make it easy for you and your clients. To make the whole process less stressful, with Altruist:
You submit your clients' information into our advisor portal (a spreadsheet with the Broker Protocol information works great)


We'll create all the accounts for you AND send out notifications to your clients to complete the account opening process (which amounts to roughly 3 clicks per account and some information collecting (if necessary) — name, address, DOB, SSN, and bank info)


Once they've opened their accounts with Altruist, they can initiate a fully digital ACAT by selecting their former custodian and inputting their 9-digit account number(s)
And that's about it. You ask them to bring some bank information, account information, and about 10 minutes of free time to the table -- then the transition is done.
Step 3: Initiate and manage the client transition process
This boils down to old-fashioned project management. Put all your clients and their respective accounts into a spreadsheet and keep track of who has received and completed the paperwork needed to open and transfer accounts. It might look something like this:

You can even create drop-downs in each of the cells with specific status criteria and conditionally format the options to turn certain colors when they meet that criteria. Thus, making a visual resource that can easily show your progress.
What are the major pitfalls to avoid when moving clients?
If you skip out on hiring an attorney, you may not fully understand what data you are/are not allowed to take. While taking more information than is allowed by your contract can be problematic (litigation is expensive), leaving the firm with less client information than you otherwise could've taken is a missed opportunity.


DO NOT TELL ANYONE that you are leaving — colleagues or clients — as this could lead to an early, forced resignation. Even if you have staff, you may want to wait to tell them until you're in a position to resign if necessary.


If you don't have a vision for your new firm, your clients may not be compelled to make the move. Get your story straight and be excited to tell it with conviction.


If you DO have a vision, your measure of success should be whether you transition the right clients, not whether you transition 100% of them. Launching your own RIA is your chance to differentiate yourself — make sure the clients you bring along are a good fit for the reinvention you aim to achieve.


It's really difficult to create a seamless transition for clients who have a significant amount of non-transferrable, non-advisory, or hard to transfer, assets (proprietary products, alternative assets, commission-based products, banking products, collateralized loans, etc). Do what you can to eliminate the headaches ahead of time or consider leaving them behind.


Don't make assumptions - ask as many questions as possible of your new custodian. Know exactly what information you need from clients and what the process of getting accounts open and transferred actually looks like. The last thing you want to do is go back to the client multiple times for information.


Track your progress - failing to track your efforts will get you in trouble FAST. Things can fall through the cracks, but the more follow-up you do, the more likely it is that you'll catch mistakes before they become a big deal.
If you're good to your clients, they'll be good to you
At the end of the day, remember that your clients have come to trust you – the human being – not the firm you represent. If you follow the plan and steps we laid out above, you're that much closer to achieving full independence with the clients you want to work with.
In case you missed it, be sure to check out the other articles in our Going Independent series:
Learn more about Altruist
With Altruist, you can seamlessly transition to a custodial platform built for RIAs. Simplify your tech stack, reduce overhead, delight your clients, and grow your business. True independence awaits. Talk with one of our transitional specialists now.