Your guide to building a $100m RIA
These growth strategies will help you scale your practice rapidly.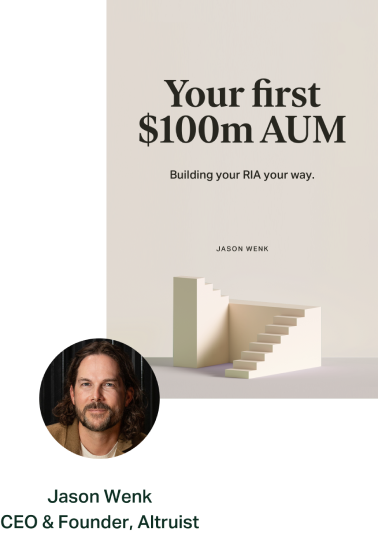 Performance reporting is more powerful when it's integrated
For reference, when we set out to build our portfolio reporting software, we wanted to ensure that advisors and their clients could review basic details about the performance of any of their Altruist accounts, including accounts at TD, Schwab, and Fidelity.
Why is it essential to have a solution that pulls all account information into one? No matter where your clients hold their assets, an advisor will substantially benefit from a portal that can conveniently gather all account information into one place. This cuts down on manual analysis and data compilation and gives a complete picture of the client's assets. A view like this provides advisors with the necessary visuals to explain the accounts' performance in a way clients will understand.
Reporting on portfolio success requires using appropriate benchmarks
Flexible benchmarking is an important feature to have in performance reporting because "success" isn't always "am I keeping in line with the performance of the S&P 500?". As clients approach retirement, their goals are likely more aligned with wealth preservation than growth. Using a wide range of benchmarks will ensure that advisors visualize their client's goals in the context of an appropriate comparison.
Client access to performance reporting increases transparency
Building trust with clients requires transparency, and having a solution that helps them see what's going on with their portfolios allows the advisor to strengthen the relationship. With reporting software, advisors should be able to display basic stock, bonds, and the cash breakdown of account holdings. Having all this in one view will give clients peace of mind around their money and eliminates unnecessary back-and-forth between client and advisor.
Use email to regularly share performance reports
In addition to accessing performance on their own, a simple way to keep clients updated is through email. By sending a performance summary email, clients can quickly review how their household balance has been changing over certain periods of time (advisors should have the freedom to decide how to set this up).
How does Altruist stack up?
Our goal is to make the advisor's job easier with everything we build. Altruist portfolio reporting software aims to do just that with crucial features:
Our portal displays basic stock, bonds, and cash breakdown of account holdings.
Accounts at TD, Schwab, and Fidelity can be linked, allowing advisors and clients access to review basic details about their performance alongside the performance of any Altruist accounts the client may have.
Send clients performance summary emails. Advisors can set this up to showcase household balance change in the last week, month, quarter, or year. Additionally, advisors can decide which clients to subscribe to receive these emails automatically on a schedule.
Advisors can also choose a benchmark from a set of proxy symbols to compare the performance of any account or household.
Send clients an investment summary report. This PDF report includes an overview of performance, deposits and withdrawals, gain/loss information, an asset-class breakdown, and position-level holdings. Advisors can also select multiple households/clients to send reports to (instead of working on each one at a time) and a custom timeframe.
And unlike other performance reporting software, we aim to make it affordable. Our portfolio reporting software is free for the first 100 accounts and only $1 per account per month after that.*
Performance reporting software ultimately provides a holistic picture of the client's portfolio and helps the advisor and client work together to reach their financial goals. It's a feature that all RIAs undeniably need when building their tech stack.
About Altruist
At Altruist, we strive to make independent financial advice better, more accessible, and more affordable. Our platform gives back precious time and capital to RIAs, so you can focus on what matters most: your clients and business.
On one intuitive, integrated platform, advisors can open and fund accounts, trade and rebalance, report, and bill, at a fraction of today's edging-ever-higher technology costs.
Our dedicated customer support team is here to help advisors that are planning to make the leap from their wirehouse. Our team will help ensure a smooth transition with exceptional ongoing service.
To see how we're helping RIAs streamline operations, reduce overhead, and elevate the client experience, book a call with one of our advisor advocates today.
*First 100 client accounts free and just $1/account each month after refers to Altruist's Portfolio Accounting Software (PAS) only. Keep in mind, other brokerage fees may apply on your client's assets. Please see the Brokerage Fee Schedule and Subscription Pricing on altruist.com/legal to learn more.