Your guide to building a $100m RIA
These growth strategies will help you scale your practice rapidly.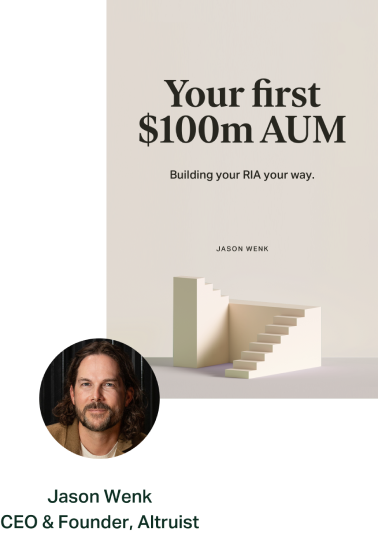 I'd suggest this framework for writing about your topics:
1. Identify the problem
2. Agitate the problem
3. Offer a solution
The length of your post should be determined by how much you meaningfully have to say. Longer posts are totally fine if you have a lot of valuable information to present, but don't pad your content with anything unnecessary or clickbaity.

Make sure you follow best practices for search engine optimization (SEO). Hubspot has a post with some solid and easy-to-implement steps.

Lastly, don't worry about the quantity of traffic. Instead, focus on quality. I had a single blog post from 2012 that ranked #1 on Google for a specific fixed index annuity product. It only received about 100 visitors a day, but it generated around five new clients per month and nearly $70 million/year of new business.
Launch a YouTube channel
Creating your own YouTube channel helps with outreach similar to a blog. You can also combine your videos with your blog to double the impact.

I use the same formula for creating videos as I do for blog posts (the three-step framework in the previous section). If you need the steps on how to set up a YouTube channel, here's a handy guide from Twenty Over Ten.
As for the videos themselves, the most important thing to remember is to follow the framework and provide value to your viewers. Production quality never hurts, but it's not the most important factor.

What is important is to remember why you're making the videos. If you want to be an entertainer, don't expect to get tons of actual results. Rather, be personable and knowledgeable, and make sure to follow the formula. Don't forget your CTA (the "offer a solution" part), but don't overdo it. A good rule of thumb is to make your content (blog posts and videos) 95% educational and 5% CTA.
Launch a podcast
I wouldn't expect to get a ton of direct lift from a podcast. That said, a niche-focused podcast can help with SEO and credibility, especially if combined with a YouTube channel, website, and blog.

Over time, it's possible that your podcast can drive new business, but while you're on your startup/scale-up journey, it's mostly there to provide more value to your ideal clients and boost your credibility.

Here are a few more tips on creating your content from my colleagues at Altruist. Lastly, here's a solid step-by-step guide to the logistics from Carson Group.
Pay for marketing on social media
I've had great results running ads on Facebook and Instagram. It's very easy to target a specific audience and learn quickly what message they are interested in (which is also useful for blog/video/podcast topics). The conversion time is longer than organic traffic, but you can build a list pretty quickly and affordably, and with good targeting and CTAs, you can generate appointments.

To see entire campaigns in action, Facebook/Meta has something called the Ads Library. Just plug in the companies you think are doing well with their marketing, and you can see all of their ads, landing pages, CTAs, etc. It's a great way to learn—just don't copy. It's illegal and dilutive.

Companies that spend millions there and are generating new clients for <$1,000/each are White Glove (they use sub-brands like "Social Security 567" and others), SmartAsset, and Fisher Investments. There are probably more, but if someone is spending many millions and running the same general ads (or same general frameworks) for years, there's a good chance they're working.
Almost done
We're almost at the finish line! Be sure to check out the final installment in the series, part 3.
If you would like to learn more about how we can help your firm streamline operations, reduce overhead, and elevate the client experience. We'd love to chat with you.