Your guide to building a $100m RIA
These growth strategies will help you scale your practice rapidly.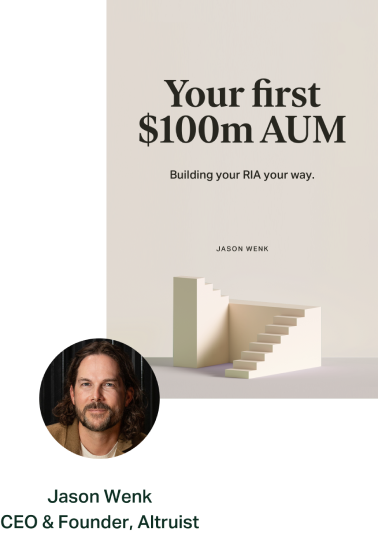 If allowable, ask clients for reviews
Testimonials are still not legal for all advisors. But, if they are for you, then it's a great time to get as many Google Reviews from your clients as possible. If you are doing great work for your clients and they tell the world about it, it will likely result in prospects being more likely to click on your Google Business listing, complete your CTAs, and ultimately hire you as an advisor.
You can buy prospects or leads, but be careful
There are a few services out there like SmartAsset and Zoe Financial that can help you get meetings with prospective clients. I've heard mixed reviews on both, as they depend a lot on the quality of the leads and how hard you work them. But, if you need to get some meetings on your calendar before all the organic activities discussed above start paying off, these sources do exist.
You could also outsource some of this work to marketing platforms such as Snappy Kraken, Advisor I/O, or Twenty Over Ten. Each company has different offerings, so you'd want to ensure it meets your niche's needs and your budget.
I would caution you to be careful with any service asking you to pay 20% (or 20bps) or more of your revenue for new clients. Over time, that will become very expensive and also make it hard for you to provide maximum client value. Lead programs can be a helpful way to grow your business—just be smart about the economics over time.
Some parting thoughts
This series isn't meant to be exhaustive—I wanted to boil it down to the most simple and actionable steps you can take to build your client base quickly. But I feel strongly that if you commit to the strategies I've discussed over the last few weeks, then you'll get results. It's really important to stay focused, though. Don't chase shiny objects. Work on consistency and execution.
Finally, be patient. The original question was about how I'd go about getting 100 new clients, and my strategy would be focused initially on creating content. Even if a content play is augmented with paid ads or buying leads, I suspect it will take up to 90 days before seeing any type of measurable traction. After 120 days, you'll probably have learned enough to see patterns of what works best for you. After 9-12 months, you should have a solid pipeline that allows you to predictably add new clients.
Take action
I hope you enjoyed this series and are inspired to take it to the next level. At Altruist, we strive to make independent financial advice better, more accessible, and more affordable. Our custody solution gives back precious time and capital to RIAs, so you can focus on what matters most: your clients and business.
On one intuitive, integrated platform, advisors can open and fund accounts, trade and rebalance, report, and bill, at a fraction of today's edging-ever-higher technology costs.
For new firms, existing firms, and advisors planning to make the leap from their wirehouse —the grass really is greener— our dedicated customer support team ensures a smooth transition and exceptional ongoing service.
To see how we're helping RIAs streamline operations, reduce overhead, and elevate the client experience, book a call with one of our advisor advocates today.
True independence awaits.