Building a social media presence is a key marketing strategy for financial advisors seeking to develop a brand and grow their business. But with so many social platforms, content formats, and marketing objectives to choose from, it can be difficult to decide where to focus your energy.
If you're an advisor hoping to concentrate your social media strategy on a single platform, a good argument can be made for LinkedIn.
A go-to platform for professionals, LinkedIn is an ideal forum for advisors to showcase their knowledge, connect with potential clients and industry peers, and even advertise their business directly.
In this guide, we will explore the key aspects of LinkedIn marketing for financial advisors – both organic and paid – to help you optimize your strategies and achieve your growth objectives.
Build a strong LinkedIn profile
Your LinkedIn profile serves as a foundational piece of your online presence. When someone views your profile, it may very well be their first touchpoint with you and your business – so you want them to come away with a positive impression. When building your profile, consider the following:
Use a professional profile pic and on-brand background image
Select a high-resolution profile picture (at least 400 x 400 pixels) that accurately represents you and your brand. For your personal page, this will likely be a professional headshot; if you have a business page, your company logo would be the obvious choice.
When adding a background image, you have a little more room for creativity – this additional visual provides a great opportunity to represent your brand in a larger format. Be sure to preview your profile to make sure the image matches your brand colors and works well in conjunction with your cover photo.

A full rundown of the recommended LinkedIn image specs can be found on their website.
Write a compelling headline and summary
Craft a headline highlighting your unique value proposition and a summary showcasing your expertise and personality. Try to strike a balance between professionalism and approachability, while also letting your individuality shine through.

Highlight relevant experience
Including your relevant credentials and experience builds trust with potential clients and establishes your authority as an advisor. In addition to your education, be sure to highlight any relevant certifications, awards, and other accomplishments.
Showcase recommendations and endorsements
Recommendations and endorsements from clients and colleagues provide social proof of your expertise and reliability. If you have a satisfied client you're comfortably asking for a favor, ask them to leave a recommendation on your profile. Similarly, seek out endorsements from other advisors or industry professionals in your space.
Optimize for searchability
Incorporating keywords relevant to your expertise and industry area throughout your profile is key to improving your profile's organic visibility. If you specialize in retirement planning, for example, make sure to note that. This type of optimization boosts your chances of appearing in search results when people interested in this service search for financial advisors in their extended network.
Create relevant and original content
So you have a bulletproof profile… now what do you do with it? The most effective financial advisors on LinkedIn focus on content strategy. This is a broad term, so it's helpful to break it down into different objectives.
Find your target audience
As you outline your LinkedIn content strategy, the logical first step is to identify your target audience. After all, it's tough to create good content if you don't know who you're talking to.
Whether you're writing on a specific financial topic intended to resonate with your peers, or you're creating approachable content targeting prospective clients, the same rules apply:
Understand the pain points, interests, and aspirations of the audience you're trying to reach.
Tailor your content to address these subjects.
Demonstrate your expertise
The term "thought leader" may be a bit of a tired corporate trope, but the concept behind it remains sound. Showcasing your knowledge on LinkedIn will help to position yourself as a trusted authority in the financial advisor space.
The content you share doesn't need to be overly academic, either; don't underestimate the value in translating complex subjects into simple, approachable insights – especially if you're writing for prospective clients.
Strive to add value – regardless of format
No matter who your audience is, creating content that offers tangible value should be your top priority. Regurgitating cliché financial advice or platitudes won't help set you and your personal brand apart from other advisors. "Don't put all your eggs in one basket" may be a proven investing principle, but you're hardly the only person saying it.
Original long-form posts are a tremendous way to demonstrate your knowledge on a topic. However, such writing can also be prohibitively time-intensive.
If you're short on time, look for some easier ways to contribute:
Attach your insights to others' content
Curate and share articles and posts from reputable sources in your industry. Attach your own comments on the subject to inject value and initiate meaningful discussions.


Engage with your connections
Consistently reply to comments on your posts and participate in discussions on other people's posts, offering your insights. Not only will this signal to others that you're worthwhile to engage with, but the more engagement on a post, the greater boost it may get from LinkedIn's algorithm.


Utilize visuals
Incorporate visually-appealing elements to make your content more engaging. A post highlighting rolling S&P 500 returns could become much more shareable with an accompanying chart, for example.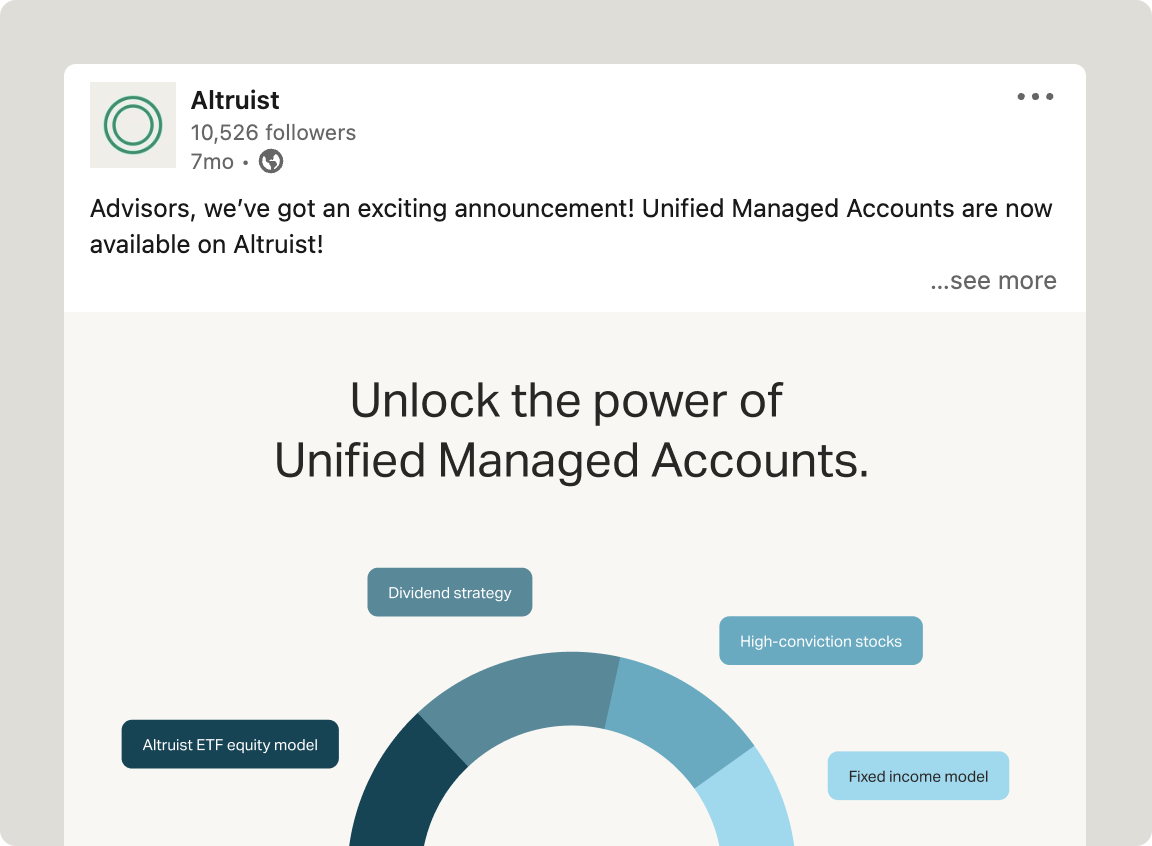 Leverage LinkedIn features
LinkedIn offers several features that can enhance your visibility and engagement:
If you have a business page, take advantage of

LinkedIn Publishing

to publish long-form content such as articles and blog posts. This feature allows you to showcase your expertise and reach a broader audience within the LinkedIn community.


Stay up-to-date with industry news and trends by following relevant topics and checking the LinkedIn news tab. If you're running short on inspiration, this feed can help you to source engaging content to share with your network.
Track and analyze the performance of your LinkedIn content marketing efforts using

post analytics

. This tool provides valuable insights into your audience's reach, engagement, and demographics, helping you make data-driven decisions.
Expand your network
Building a robust network on LinkedIn is crucial for expanding your reach and connecting with potential clients. Consider the following strategies:
Request to connect with clients and peers
Start by connecting with your current clients and colleagues. These connections are your bread and butter – if you already have an existing relationship with someone, adding them to your network is a no-brainer.
Leverage alumni and professional groups
Join any alumni groups or professional associations that you have a relationship with. Engaging with these communities allows you to build new relationships and reach untapped circles.
Get involved in niche LinkedIn spaces
If you specialize in a certain area, be on the lookout for LinkedIn groups specific to your niche in order to connect with like-minded advisors and participate in discussions immediately relevant to your expertise.
Use LinkedIn's advanced search filters
If you favor a more proactive approach, you can reach out to other users directly with requests to connect. LinkedIn's advanced search filters can help narrow your search by location, industry, and job title. Personalize your connection requests and messages to increase the likelihood of building meaningful relationships.
Organic vs. paid reach
Up until now, this guide has focused on organic content strategies. There are many benefits to posting organic content: it's authentic, it displays directly to the people in your network, and best of all, it's free.
But your organic reach will be naturally limited by the size of your network. Barring a scenario where your posts go viral across the platform, your organic content can only go so far. That's where paid advertising comes in.
Utilize LinkedIn advertising
LinkedIn advertising can be a valuable tool for advisors seeking to expand their content marketing efforts. From building brand awareness to growing a mailing list, driving traffic to your website, and even directly prospecting potential clients, LinkedIn offers various advertising options to help financial advisors achieve their marketing goals and reach their target audience effectively.
Here are a few things to consider as you map out your LinkedIn paid marketing strategy:
Define your advertising goals and target audience
Ask yourself who you want to reach and why you want to reach them. Are you looking to gain more newsletter subscribers? Build your client base? Clearly defining your objectives will guide your advertising strategy.
Set a budget for your LinkedIn ad campaigns
Determine an advertising budget you feel comfortable with and decide how you want to allocate it. Set realistic expectations and stick to your budget plan to ensure you're not overspending in case you don't see the results you'd hoped for.
Choose the most suitable ad format
LinkedIn offers several ad formats, including Sponsored Content, Sponsored Messaging, Dynamic Ads, and Text Ads.
Sponsored Content

promotes your content directly in the LinkedIn feed, where the audience you're targeting will see it while scrolling.

Dynamic Ads

leverage targeting data to show customized ads based on individual users' profiles.

Text Ads

are standard pay-per-click (PPC) ads designed to drive traffic to a website or landing page.
Consider which format(s) will align best with your goals and target audience.
Configure conversion tracking
If you are sending traffic to your website from LinkedIn ads, be sure to set up conversion tracking to ensure your ad performance and conversions are being properly measured.
Craft compelling ad copy and visuals
Develop compelling ad copy and visuals that resonate with your target audience. Clearly communicate the unique value you offer as a financial advisor and highlight the benefits of your insight or services.
Utilize ad targeting options
LinkedIn's advertising targeting provides far more powerful segmentation options than are available through regular searches on the platform. This precision targeting can help your ads reach your target audience, increasing the likelihood of generating conversions.
Test, test, test
Advertising is like an educated guessing game – you can't know for sure what will work until you test a few ideas and formats and compare performance. Lean on basic principles like A/B testing to see which ads are performing best.
Measure your performance goals
To gauge the effectiveness of your LinkedIn marketing strategy, take advantage of the analytics features available on the ads platform. Set up your reporting dashboard to ensure your key performance indicators (KPIs) are easy to view – and then regularly analyze your results.
These KPIs will likely vary based on your ad format and marketing goals.
If you're tracking engagement on a sponsored LinkedIn post, for example, you'll want to keep an eye on metrics such as impressions, likes, comments, and reposts to measure the impact of your content.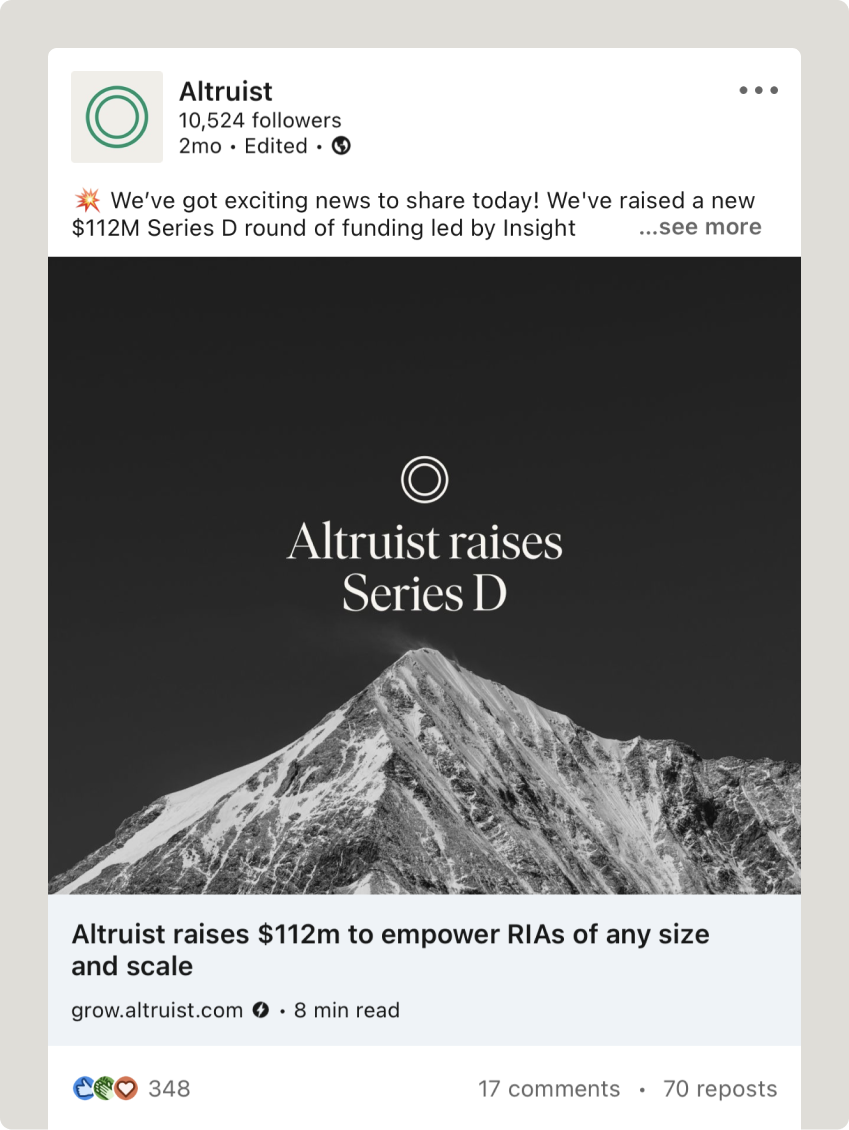 These numbers should provide a solid indication of whether the content you're promoting is resonating with your audience. Be sure to read the comments, too, so you have a sense of how people are reacting.
For other types of paid ads – like those focusing on lead generation or website conversions – you'll probably be tracking KPIs like cost per click, total conversions, cost per conversion, and conversion rate. These metrics will be key to evaluating the performance of your paid campaigns and assessing the overall return on investment (ROI).
Adjust your strategy accordingly
Just like with investment strategy, performance is your ultimate guide. As you test various LinkedIn marketing approaches for your advisor business, analyze your KPIs to determine if your strategy is producing the desired results.
If you find a LinkedIn strategy that is working well, great! Consider allocating more of your time or budget to those efforts. If a content format or ad campaign clearly isn't producing the results you're hoping for, don't hesitate to reverse course and try a different approach.
When done right, LinkedIn marketing can be a cornerstone of a financial advisor's marketing strategy – and can complement other components such as email marketing, content marketing, and networking.