Your guide to building a $100m RIA
These growth strategies will help you scale your practice rapidly.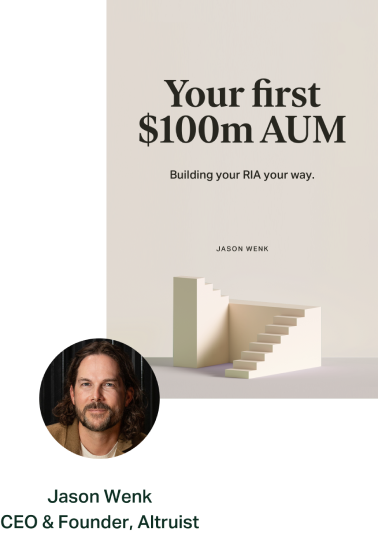 Kiplinger Wealth Advisors, founded in 1999 by Brad Kiplinger, eclipsed $100m in AUM in 2021. The firm has steadily added $10-12m per year for the past 4 years and lead flow is showing no sign of slowing down. Despite an impressive growth rate, when the team took a critical eye to their books, they identified an outrageously expensive line item impacting the firm's profitability.

In early 2020, the firm's head of operations, Tyler Purcell, estimated that they were paying their custodian over $140,000 per year in administrative fees and ticket charges alone. This was more than enough to initiate the search for an alternative.
What followed was a lengthy due diligence process, an extremely fast client transition (with one surprising challenge), and, thanks to some significant cost savings, investment into a new suite of technologies that will help maintain their growth rate—and improved margins—well into the future.
Choosing a new custody solution requires serious due diligence
"We interviewed most of the large custodians—basically running through a long checklist that helped us compare fees, features & capabilities, trading costs, etc. It felt like the same conversation, over and over. Somewhere in the midst of that process, I saw an ad for Altruist. When I checked it out I immediately thought, 'This company is doing exactly what I wished the broader industry was doing.'"
Tyler and the Kiplinger team proceeded to have a series of in-depth conversations with numerous representatives from Altruist— not excluding founder and CEO, Jason Wenk.
The immediate cost savings of a more advisor-friendly fee model were clear from the jump. What needed to be better understood was where and how they might need to adapt various business processes to a new platform. Over the course of several months, these details were methodically worked through, and in early 2022, the time to make the transition arrived.


Helping older clientele navigate new technology
The hardest part of the transition was not opening, funding, or transferring accounts and client assets (case in point: they transitioned over 500 accounts in the first month). Like many RIAs, a large portion of Kiplinger Wealth's clientele is currently in retirement. The main challenge was onboarding these folks to a tech-forward platform like Altruist. Fortunately, Tyler and the team made themselves available to provide all the necessary support.
Pushing through this short-term challenge was worth it. Over 90% of the firm's new clientele is still in the wealth accumulation phase of their financial journey, and the paperless onboarding process and intuitive client portal are compelling differentiators.

The next phase for Kiplinger Wealth
The team has three top priorities as it looks forward to the next chapter.
Double down on tools that help drive efficiency. They switched from eMoney to RightCapital for a cleaner integration with Altruist, and have implemented new e-sign, billing, CRM, and financial monitoring software.
Continue building out their "family office" feel with the continued expansion of additional services like tax planning, estate planning, and insurance.
Launch an offering that is suited to the millennial audience.
Launch an offering that's suited to the millennial audience.


"Before Altruist, we weren't able to profit on an account with less than $15k, but with the billing flexibility and massively reduced costs for the tech, that's no longer the case."


At Altruist, we strive to make independent financial advice better, more accessible, and more affordable. Our custody solution gives back precious time and capital to RIAs, so you can focus on what matters most: your clients and business.
At Altruist, we strive to make independent financial advice better, more accessible, and more affordable. Our custody solution gives back precious time and capital to RIAs, so you can focus on what matters most: your clients and business.
On one intuitive, integrated platform, advisors can open and fund accounts, trade and rebalance, report, and bill, at a fraction of today's edging-ever-higher technology costs.
For new firms, existing firms, and advisors planning to make the leap from their wirehouse or broker-dealer, our dedicated customer support team ensures a smooth transition and exceptional ongoing service.
To see how we're helping RIAs streamline operations, reduce overhead, and elevate the client experience, book a call with one of our advisor advocates today.
True independence awaits.
Altruist and our affiliates did not pay for this testimonial, but we do earn revenue from financial advisors who use our platform. This customer review may not represent the experience of others and it isn't a guarantee of results, but we'd love the opportunity to show you firsthand.
Altruist Corp ("Altruist") offers technology and tools designed to help financial advisors achieve better outcomes. Advisory services are provided by Altruist LLC, an SEC-registered investment adviser, and brokerage related products are provided by Altruist Financial LLC, a member of FINRA/SIPC. Nothing in this communication should be construed as an offer, recommendation, or solicitation to buy or sell any security. Additionally, Altruist or its affiliates do not provide tax advice and investors are encouraged to consult with their personal tax advisors. Clearing and custodying of all securities are provided by Apex Clearing Corporation. © 2022 Altruist Corp 3030 S La Cienega Blvd Culver City, CA 90232.